Facebook's big blue privacy dinosaur is back and now he's here to stay. For the next two weeks, Privasaurus Rex* will be asking the Facebook users who sign into the desktop version of the site to do a "privacy check-up" to see how exposed their information is and change their settings if they're oversharing. The check-up is not too intrusive. Privasaurus Rex will not be doing the digital equivalent of holding onto your balls while you cough; instead he is just feeling the foreheads of Facebook's 1.3 billion users. He breezes through three quick checks: the category of people who can see your status updates, who can see what you're doing on various apps, and who can access information in your profile, such as your birthdate, work and education history, and hometown. Rex doesn't ask you to review who can see your party photos or how much information apps can suck out of your Facebook profile, but does provide some links to the places you'd go to check that. He won't disappear completely after two weeks. He and his check-up are sticking around in the dropdown menu for " privacy shortcuts."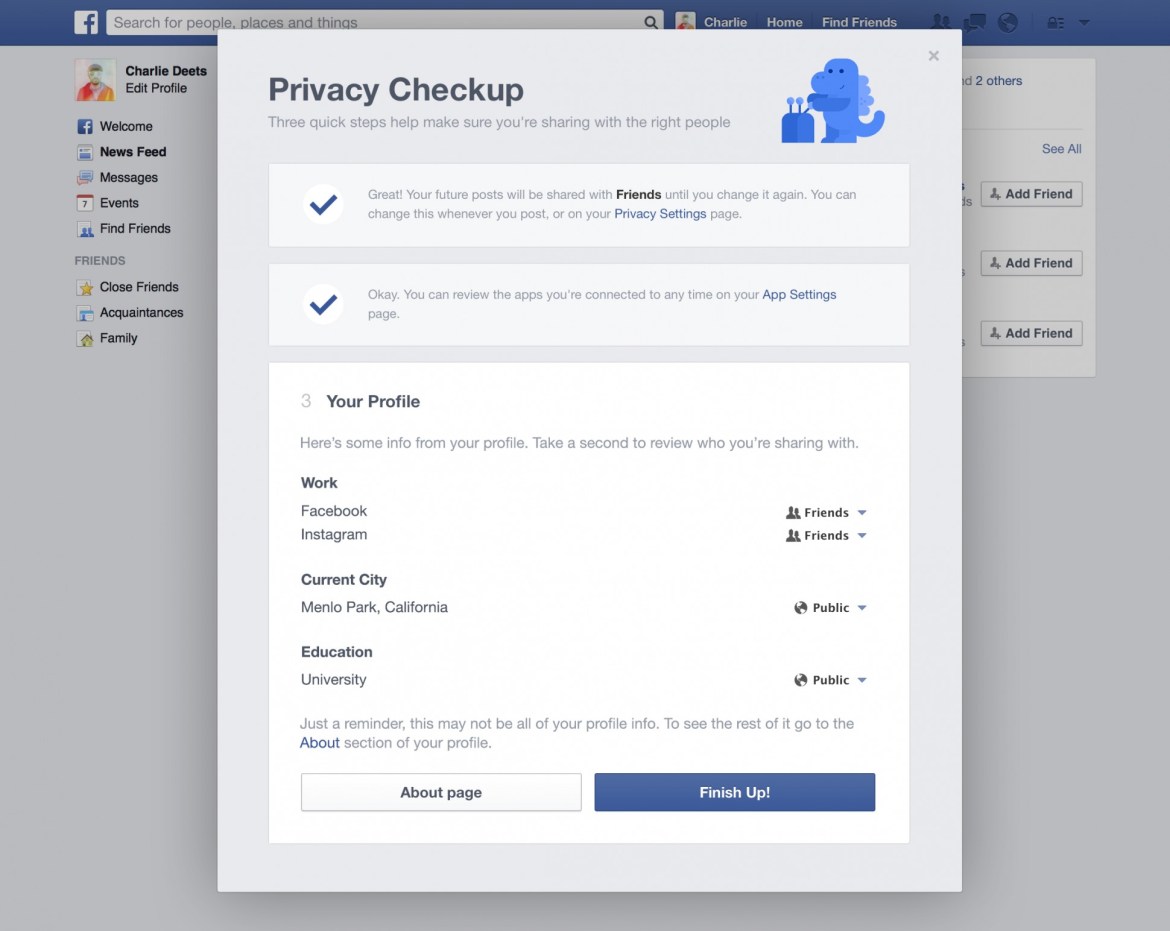 Facebook's privacy dinosaur asks you three quick questions to "check up" on your privacy
Facebook privacy product manager Paddy Underwood says that in a pilot program with a "small number" of Facebook users, 75% of people who started the check-up actually completed it, and 76% said it was helpful. He says they wanted to keep it simple with the hope of keeping people's attention, but that it could change and become more robust in response to feedback from users. Depending on how this is received, Facebook could make the check-up a regular yearly prompt. "We want to make sure people are sharing with who they want," Underwood said. As to Facebook choosing an extinct creature to represent privacy, a much trodden subject, Facebook says the icon prompts far more engagement from users when tested against a boring lock.
While Privasaurus Rex's check-up is a weak review of how much of your information is flowing out of Facebook, he's an extinct step in the right direction. Other tech companies should be doing check-ups with us, re-informing us about our privacy settings and asking us if we're comfortable with how our data is being collected, stored and shared. Essentially asking, "Are you sure this is what you want to be happening?" A nice start would be the company I assume makes the computer Privasaurus Rex is using in that dropdown menu: Apple. I'm sure the celebs exposed by the recent hack of their iClouds would have appreciated a "check-up" from Apple reminding them that their photos get backed up to the iCloud, that their location information is included by default in the metadata of their photos, and the status of their two-factor authentication. Location metadata for example can reveal where you were when you took a naked photo of yourself, if such a thing were to somehow leak out. An iCheck-up could include options for making changes to those settings.
Google meanwhile could have a privacy check-up for its users, reminding them which devices and apps have access to their Google accounts, the locations of IP addresses that have signed into their Gmail recently and where their Gmail is forwarded to if there are additional emails on the account. The last was one way Scarlett Johansson was compromised in 2011; once a hacker got into her account, he turned on mail forwarding so he got bcc'ed on everything.
As we put more and more sensitive information into the hands of tech companies, we need them to make it easier for us to protect it. One way would be with check-ups, and prompts for us to review our settings. Right now, it's hard. Even if they do have a "privacy" area in settings, as Apple does on iDevices, it's not always intuitive. For example, to turn off location metadata for your photos — which Apple uses to help organize your iPhotos according to a map of where you took them — you have to go to Settings, then Privacy, then Location Services, and then toggle the switch to "off" for Camera. That's not intuitive and you would likely only know to do it if you stumbled upon a tech article about "How To Make Your iPhone More Private."
We tech writers have racked up many, many clicks with pieces informing people how to check and change their privacy settings. There is obviously an interest from the public in controlling the increasing amount of digital information being by our love of all things techn. Facebook's "privacy check-up" may sound lame — and in its current iteration, kind of is lame — but it's a practice I hope will spread to other tech companies.
*Not his official name.
Provided from: Forbes.